Our Insta-Ready Togo Sofa is the Go-to Sofa of the Moment
Michel Ducaroy had a design epiphany when brushing his teeth one morning in 1960-something. Bending his malleable tube of minty fluoride into a curve, only to see the dimples of the toothpaste push the outer alluminum casing, led to an idea. Perhaps the most influential furniture idea he'd ever had. And whipping out his notebook to draw his weird and wonderful toothpaste-inspired design, the iconic Togo sofa was born.
The Togo sofa is having a moment. Scroll through your Instagram feed and the chances are you'll see a Togo or two taking centre stage in dreamy mid-century or bohemian or industrial interiors. But how has this chunky, lumpy behemoth of a sofa taken the world by storm?
Is the Togo sofa comfortable?
The Togo sofa is made entirely from polyurethane foam. Three densities of foam are used to provide ergonomic support and this is wrapped in polyester that is stitched to provide the legendary crumpled and folded look. With no base, the Togo hugs the ground and has a unique low seating height. 
Without a straight line in sight, the naturally curved profile and sunken seating provide ultimate comfort. Enveloping every joint and muscle, the Togo's ruffles seemingly mould to the body's shape while providing exceptional lumbar support. 
What's all the Togo fuss about?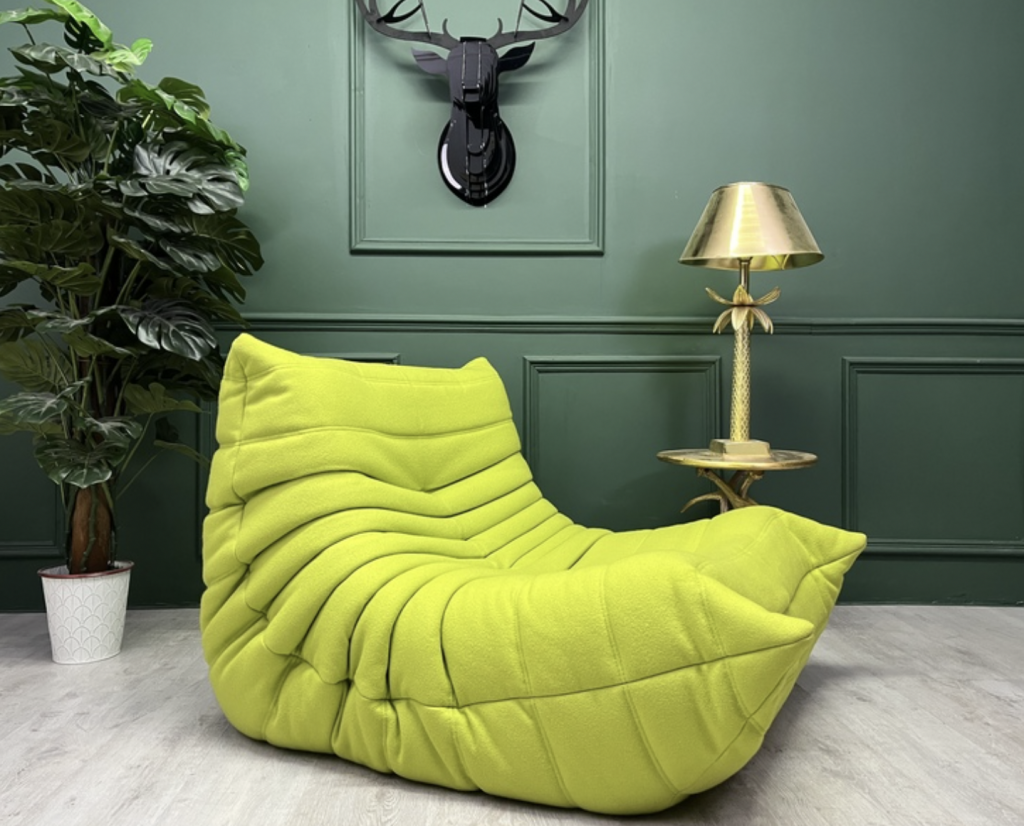 The Togo is timeless and it's as effortlessly contemporary as it was when it was first made. Industrial fanatic? A cool tan leather Togo loveseat would accentuate a brick wall, metallic flourishes and rough-around-the-edges factory-style decor. Minimalist enthusiast? A jet-black Togo will pop against a bare brick or white wall and add monotone chic to your space. Boho darling? The fluid curves, purposeful creases and cute dimpled profile mirror the eclectic and organic elements of bohemian styling.
Venture onto Instagram and you'll see numerous Togo-inspired hashtags to follow. The hashtag #togosofa will present you with over 23,000 posts to scroll through at your leisure alone. And it's the sheer variety of Togo posts that catch the eye. 
Younger homeowners are clamouring for the Togo sofa design. Visually striking and beautiful 'no filter needed' Togo-led interiors lead to nuggets of exquisite social media eye candy.
Get your own Togo Sofa at HomioDecor.com delivered within 7 days to USA and Europe! 
Shop here ➡️ Iconic Togo Sofa, Togo Sofa - 2 Seater
Your Email Address Will Not Be Published. Required Fields Are Marked *
Subscribe to our newsletter and receive a selection of cool articles every weeks